Glenn & I are having a great time in Tricotte.  It had been six months since we were here. 
Glenn has been working on the village water system.  He's installing two new 1600 gallon water tanks in order to increase the storage capacity.  We currently have indoor plumbing for our girls in the orphanage but didn't have the capacity for the boys — so this is going to get the boys the much desired indoor plumbing as well. 
This morning I helped distribute clothes at the orphanage.  The kids were excited.  They don't often get new clothes.    Some friends in Susanville, California put together a new "dress" clothes package for each of our kids and today the kids received it.  Tomorrow we will be giving out new shoes as well. 
While I had them all together I took this photo of the boys —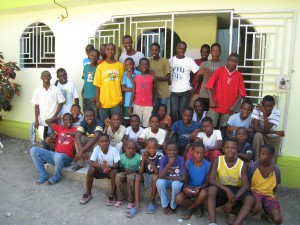 and this of the girls —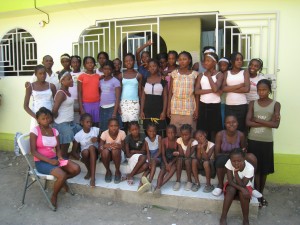 The kids thanked me over and over again and I pass that on to you. 
This area of Haiti hasn't had any significant rain since November.  The recently planted crops are suffering and will fail if they don't soon get some moisture.  Please pray that God would provide the much needed rain.  Thanks much.